It's been a while since we've seen or heard from Tom Holland and Zendaya —
and in case you're wondering, they are still together … although they seem to be a little PDA shy lately.
The two actors were on hand Friday evening in India, where they both attended the NMACC Gala in Mumbai

Looking completely done up and ravishing as they were heading in — especially Z,

who was wearing a gorgeous traditional Indian saree.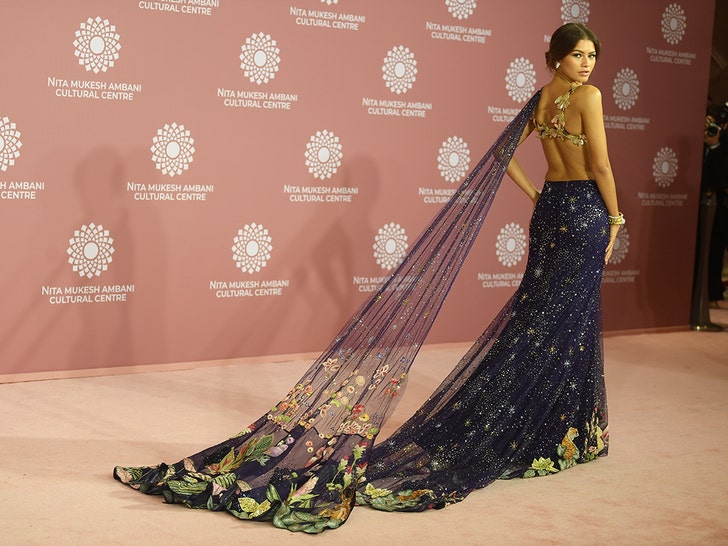 Her dress was flowing — and part of it even trailed her … much like she did with TH, who didn't stand side by side with his girl.
Instead, he let her have the spotlight for herself as he went first in his own pap crush moment. In other words,
they didn't pose together outside.
They looked pretty casual … just chitchatting and shooting the breeze.
And when they did a group shot with all their famous pals in attendance, Tom and Zendaya didn't even stand next to each other.
We've seen them hold hands, hug and sweetly hold each other in front of cameras (post-relationship news),
and we've certainly seen them share the love in private. Sometimes, though … they seem to opt for the opposite vibe,
like here where they're more low-key.
Behind the scenes, they're still hanging out as much as they've ever been — which was also on display for their India trip.
What we can gather … they're a fairly private pair and don't seem to like rubbing their relationship in everyone's faces so much,
which is respectable.
Considering Z is very much so Hollywood's it girl, it'll be interesting to see how they navigate the public sphere
the more famous they become, which is almost a certainty at their young age (just 26 years old).
Sky's the limit for these two … better start planning now!
SOURCE: TMZ