A now-deleted video suggests that a character who had been confirmed as dead in the Marvel Cinematic Universe may return for a future project.
A major Eternals character may return to the Marvel Cinematic Universe, despite dying at the end of the film.
Recent evidence reported by The Cosmic Circus indicates that Richard Madden's Ikaris, who perished at the end of Eternals, may return in a future MCU project, though this has not been officially confirmed. In a now-deleted TikTok, Emmy Kennard (@emmytriggerzzz) implied that her brother, Madden's stunt double Joe Kennard, is intended to return as a "character coming back into the MCU." Kennard's IMDb credits reveal that he has only worked in the MCU as a stunt double for Madden.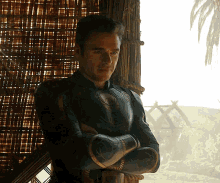 Following his thwarted betrayal of the other Eternals, Ikaris chose to make good on his namesake and fly into the sun at the end of the film, effectively killing off the character. If this new evidence is true, it would go directly against a previous statement made by Eternals screenwriter Kaz Firpo, who confirmed that Ikaris was, in fact, dead.