The world mourns one of the best to ever do it, Simply the best if we do say so.
Singer Tina Turner, whose soul classics and pop hits like The Best and What's Love Got to Do With It made her a superstar, has died at the age of 83. Turner had suffered a number of health issues in recent years including cancer, a stroke and kidney failure.
She rose to fame alongside husband Ike in the 1960s with songs including Proud Mary and River Deep, Mountain High. She divorced the abusive Ike in 1978 and went on to find even greater success as a solo artist in the 1980s.
Dubbed the Queen of Rock 'n' Roll, Tina Turner was famed for her raunchy and energetic stage performances and husky, powerful vocals.
Turner won eight Grammy Awards and was inducted into the Rock 'n' Roll Hall of Fame in 2021 as a solo artist, having first been inducted alongside Ike Turner in 1991.
Upon her solo induction, the Hall of Fame noted how she had "expanded the once-limited idea of how a Black woman could conquer a stage and be both a powerhouse and a multidimensional being".
Younger stars who have felt her influence include Beyoncé, Janet Jackson, Janelle Monae and Rihanna.
Many would describe Turner as a force to be reckoned with and that is nothing but the truth. Many Greats took to social media to share their memories of the Rock and Roll Hall of Famer.
American singer Gloria Gaynor, who also rose to fame in the 1960s, said
Turner "paved the way for so many women in rock music, black and white".
There were also tributes from Supermodel Naomi Campbell, Basketball legend Magic Johnson and singers Kelly Rowland, Ciara and Blondie's Debbie Harry.
The Rolling Stones frontman Sir Mick Jagger took to Instagram to share
Turner was "inspiring, warm, funny and generous" and helped him when he was young.
Sir Elton John, who in his autobiography wrote about the heated arguments the pair had while trying to work together in 1997, said
she was one of the world's "most exciting and electric performers".
Actress Viola Davis praised Turner as
"our first symbol of excellence and unbridled ownership of sexuality!!"
TINA TURNS RUGBY LEAGUE 
Tina Turner is loved everywhere and no one would have ever thought that she would have had a hand populariser Rugby League in Australia. She led one of the most successful campaigns during her time and the big bosses at NRL constantly try to bring her back to perform at the grand finals. Let's put it this way whenever we hear 'The Best by Tina Turner" we instantly think of Rugby League.
The NRL currently has many Fijian players and players with Fijian descent on full time in each of the Clubs.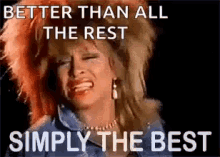 Tina's life story spawned a 1993 biopic titled What's Love Got To Do With It, which earned Angela Bassett an Oscar nomination for playing the star; and a hit stage musical – aptly titled Tina: The Musical. The whole film explains the ups and downs that she faced in the early part of her career. That was her divorce, the abuse suffered and her redemption towards her Solo career. She was also the subject of HBO documentary Tina in 2021.
In an interview with Marie Claire South Africa in 2018, Turner said:
"People think my life has been tough, but I think it's been a wonderful journey. The older you get, the more you realise it's not what happened, it's how you deal with it."
Everything has a season and much like the sun we will rise and one day, we will set. The only thing that will remain is our deeds and actions. Tina Turner has inspired millions and we will have her music
(Source: BBC/NRL)