"Well, it's been a hell of a journey,"
Panic! At The Disco are set to go their separate ways after their current tour.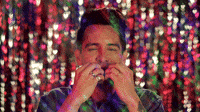 Brendon Urie is set to become a father shortly with his wife Sarah Urie expecting their first child, and he explained that it's time to close this chapter of his life to focus on his family after nearly two decades with the band. He announced in a social media statement: "Well, it's been a hell of a journey…
Paying tribute to their fans, he concluded: "Thank you all for your immense support over the years. I've sat here trying to come up with the perfect way to say this and I truly can't put into words how much it has meant to us. Whether you've been here since the beginning or are just finding us, it has been a pleasure to not only share the stage with so many talented people but also share our time with you. I am looking forward to seeing everyone in Europe and the UK for one last run together.
"I love you. I appreciate you. Thank you for existing.
"Brendon."
Panic! At The Disco formed in Las Vegas in 2004, then comprising Brendon, Brent Wilson, Ryan Ross, and Spencer Smith.
They released four albums as a band, while Brendon continued to use the band's moniker for 2016's 'Death of a Bachelor', 2018's 'Pray for the Wicked' and 2022's 'Viva Las Vengeance'.
Brendon joined forces with pop megastar Taylor Swift on the duet 'ME!' in 2019, which reached Number 3 in the UK and 2 in the Billboard Hot 100 chart.
The final date of the 'Viva Las Vengeance Tour' in Manchester on March 10, 2023, will mark the end of PATD.
We'll miss Panic! At The Disco <3