Every year the Oxford English Dictionary adds a word to its book of knowledge, but this year's choice is quite baffling.
This year was the first time the public was allowed to vote for the Oxford Word of the Year – and boy did they pick an interesting one.
Normally, Oxford University Press – publisher of the Oxford English Dictionary – decides on its annual word or expression 'based on the ethos, mood or preoccupations of the past twelve months'.
The organisation explains that its editors will track potential candidates as they emerge throughout the year while looking at how often they're used and compare this with other language data.
Ultimately, it's a term that they say will most likely have a 'lasting cultural significance.
Now you know how the decision is normally made, let's take a look at the candidate that best sums up 2022.
The 'goblin community' has spoken!

We're pleased to announce goblin mode as the #OxfordWOTY 2022.

Read more about this year's winning choice here #TeamGoblinMode: https://t.co/NmC2UYau3U pic.twitter.com/yqQ9eIlIeQ

— Oxford University Press (@OxUniPress) December 5, 2022
Goblin mode… yes, you read that right.
To be fair, the term actually suits what has been a dumpster fire of a year. But even so, people found the choice rather baffling.
Comments went wild, one Twitter user, quipped
"Oxford dictionary really went goblin mode innit,"
while another said,
"If 'gaslighting' and 'goblin mode' being 2022's words of the year isn't a sign of the times then idk what is."
Another comment,
"It's two words. And also something I've never used or heard any pal of mine say. Carry on. 
Goblin mode has been defined as 'a type of behaviour which is unapologetically self-indulgent, lazy, slovenly, or greedy, typically in a way that rejects social norms or expectations.
Although it dates back to 2009, the phrase went viral in February 2022 as Covid lockdowns eased worldwide.
Oxford University Press explained
"Seemingly, it captured the prevailing mood of individuals who rejected the idea of returning to 'normal life', or rebelled against the increasingly unattainable aesthetic standards and unsustainable lifestyles exhibited on social media." .
The publishing house gave three different words or phrases to choose from as 2022's word of the year – Metaverse, #IStandWith and, of course, goblin mode.
A whopping 340,000 English speakers across the globe voted, and it turned out to be a resounding success for the winner, which earned 93% of the overall vote – that's 318,956 votes.
Second place was Metaverse, the virtual reality space that allows users to interact with each other in a computer-generated environment, earning 14,484 votes.
And in third place was the hashtag #IStandWith, which became popular online this year among activists.
Speaking previously to announce the decision to open up a public vote, Ben Zimmer, American linguist and lexicographer, said: "Goblin Mode really does speak to the times and the zeitgeist, and it is certainly a 2022 expression.
"People are looking at social norms in new ways. It gives people the license to ditch social norms and embrace new ones."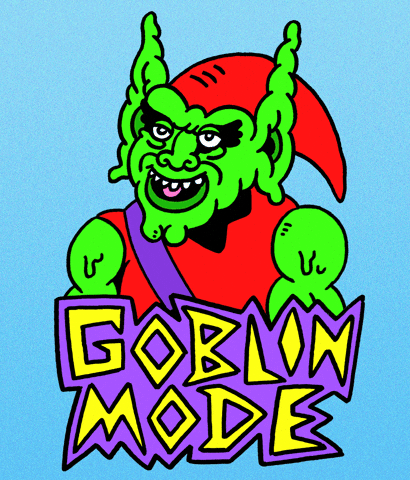 Well, there is nothing much we can do but embrace our inner goblins and go full goblin mode as we head into the new year. To be honest, do you know anyone who has used 'goblin mode' in a sentence……yeah me neither.
(Source: Unilad)